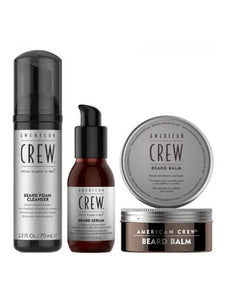 3 Steps to have the Perfect Beard. Perfect for yourself or as a gift for someone you know with a beard.
Cleanse with  American Crew Beard Foam Cleanser
Leave-in beard cleanser. Easy to use and quick absorbing dry foam with long lasting benefits, leaving the beard clean and free of daily residue
    2.  Condition with  American Crew Beard Serum
An oil based formula specially designed for beard care, with beneficial oils that instantly conditions and keeps the beard soft and well-groomed. Lightweight, fast-absorbing formula.
   3.   Style with  American Crew Beard Balm
A soft balm that tames and conditions the beard with flexible application for styling.