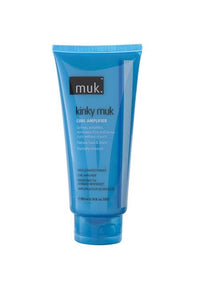 Muk Kinky Muk Curl Amplifier is formulated with special ingredients to tame, amplify, and define hair. Eliminates frizz while adding shine and texture and making hair resistant to humidity and the elements.
Don't be shy to use reasonable size amounts, as kinky muk never, ever dries hard or crispy.
Allow hair to air dry, or gently diffuser dry.
For dehydrated curls, use kinky muk curl leave-in moisturiser prior to kinky muk curl amplifier.